How NWI is helping Healthcare offices?
The day when patients are sitting in every seat in your waiting room may never return. Patients are using Telehealth and other technologies to avoid coming to a healthcare facility. Many needs still require a face-to-face visit. Now you have a safe way for patients to come to the clinic with less chance of exposure to any communicable disease.
No Wait Inside allows healthcare providers to invite patients back to their offices without the concern of waiting among other patients that may have a transmittable disease as well as protects their privacy. No Wait Inside is fully HIPAA compliant.
Without downloading an app, patients will be able to notify you of their arrival at your facility without calling your staff. When you are ready for them, our tools will notify them that you are ready for them to come in. It's just that simple!
Hospitals and Clinics
Healthcare facilities face a new dilemma of serving their patients in an orderly manner without relying on their waiting rooms. NWI solves this dilemma by allowing customers to socially distance themselves in their own vehicle or outside and then be notified when the facility is ready to serve them. NWI allows for seamless scheduling and personal communication between a facility and a customer without requiring any patient app.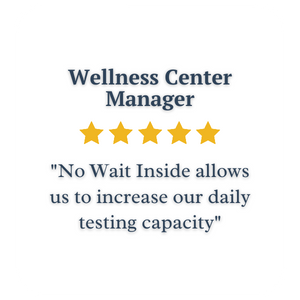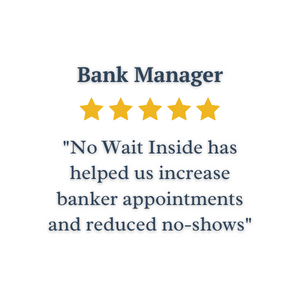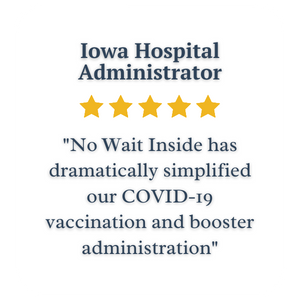 Get a completely free and personalized demo of how NWI can be used in your organization
Request a Demo